Case Kittilä mine
25 January 2021
Renewed tailings safety monitoring through joint development
The Kittilä mine is Europe's largest gold mine. The mine is operated by Agnico Eagle Finland Oy, a subsidiary of the Canadian gold producer Agnico Eagle Mines Limited. FinMeas participates in the risk management of the mine's dams by supplying automated monitoring solutions for reservoir areas that enable real-time monitoring of reservoir measurement data. In addition to monitoring, the reporting of measurement data has also been renewed with an automated reporting service provided by FinMeas.
A tremendous amount of data in a single service
"Before, we did many more of the measurements manually and also recorded the data manually in Excel spreadsheets. Now, thanks to FinMeas, we have managed to automate a great number of instruments at the tailings reservoirs, enabling real-time monitoring, alarms and automated reports for exceeding limit values," says Jussi Nousiainen, geotechnical engineer at Agnico Eagle Finland.
Nousiainen, who works in the ETM (Environment & Tailings Management) unit, is responsible for tasks related to the design of tailings and water reservoirs and related instruments, reporting and auditing at the Kittilä mine.
The Kittilä mine still uses both automatic and manual measurement equipment. The data from the manual measurement equipment can also be entered into the FinMeas Online measurement data service. This way, all data can be managed in one place and printed in one automated report, complete with charts.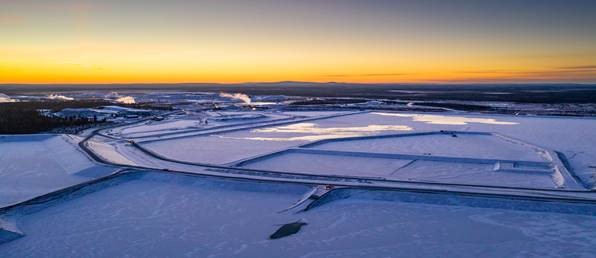 Improved dam safety and savings in working time are key benefits
A key benefit of automating measurement equipment is improving dam safety in the reservoir area. Real-time monitoring and alarms ensure a timely reaction to exceeding limit values.
"Before, we might conduct between two and four manual measurements of pore pressure at the construction area. Now, automated monitoring informs us of any changes immediately, and we can take action according to appropriate protocols if the defined values are exceeded," says Nousiainen.
In addition to pore pressure measurements, measuring the surface level of underdrains between raised dams is important for intensifying the pumping of water from the wells according to need. Working time is saved both by reduced manual measurements and the automated reporting of measurement data.
"The number of manual measurements in the field has decreased greatly, and the time spent manually crunching numbers in Excel is down to a minimum now that all measurement data can be automatically composed into reports with charts included. That saves a lot of working time that we can now use for other activities," says Nousiainen.

Joint development of the best available system
The FinMeas Online system has been continuously developed according to the needs of Agnico Eagle Finland. Several new functionalities and visual formats have been introduced. Nousiainen applauds the FinMeas Online service:
"We work with many outside auditors. With FinMeas Online, it is also easy to present the way we monitor our reservoirs to them. The visual aspect of the system is a big plus. I feel we are developing a system that is the best, even globally speaking."
"All promises are kept, and reaction times are very short"
The short reaction times, reliability and active approach of FinMeas are all cornerstones of solid cooperation.
"I am satisfied with our cooperation. All promises are kept, and reaction times are very short. The FinMeas employees are also very active and self-organised. They keep us up to date about events, even if we are busy with other things," says Nousiainen.
The cooperation with Agnico Eagle Finland will continue in the future. For example, the surface level of the tailings and water reservoirs are still measured manually, but a new automated solution is already under joint development. Automated reporting for the environmental side is also currently in the works.