Effective water management is a critical aspect of mining operations. Water can be found in various forms at mining sites, including natural conditions, groundwater, surface water, process water, and rainwater. As mining regulations become more stringent, continuous improvement in water management is required, rather than just addressing acute problems as they arise.
Real-time visualisation of current water amounts in the mine
To simplify the comprehensive nature of water management, it is helpful to gather as much relevant water-related data as possible in a single system. FinMeas Online is a system that can integrate data from various sources into a single user-friendly platform. Measurement data, such as reservoir water levels and volumes, incoming and outgoing water flows, seepage from dams, groundwater levels, precipitation, and site and surrounding area discharge rates, can all be imported into the FinMeas Online system. Visualisations provide a comprehensive overview of the situation, such as how much water is present in the reservoirs and how much space is left for more water.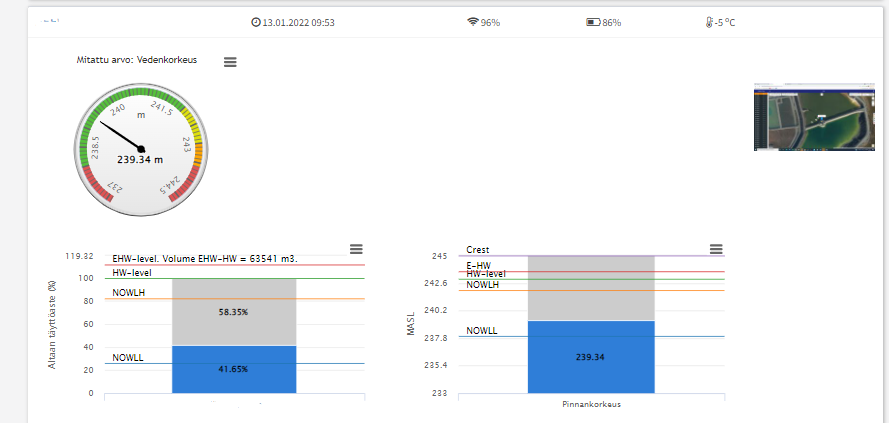 Essential information supports decision making
With all necessary measurement data in the system, advanced computations can automatically calculate cumulative amounts and changes on a monthly basis. The system can also assist in water balance calculations, such as reservoir water levels and volumes. For example, users can easily determine how much water has accumulated in reservoirs over the past month, how much rainwater has fallen within the mining site, and how much water has left the site as discharge during the same period. Automation eliminates the need to manually compute data from various sources to generate an accurate overview of the water situation. Moreover, customised threshold levels and alert parameters can be set for all values, triggering automatic notifications if data deviates from the set parameters.