Bruk Dejenie, a graduate from Aalto University, was recently awarded the best geotechnical thesis of the year by the board of the Finnish Geotechnical Society. The winner was announced on November 3rd at the Geotechnical Day, and Dejenie received an award from FinMeas Oy for his work on the "Carbon Dioxide Sequestration Capacity of Stabilized Malmi Clay".
Carbon dioxide emissions to a minimum
The ability to absorb carbon dioxide in different types of stabilizing agents in clay under laboratory conditions was the focus of Dejenie's research. Various low-carbon emission recycled material-based stabilizing agents, in addition to Malmin clay, were also used in the study. This groundbreaking research is a preliminary study for future research that will test carbonation using multiple stabilizing agents and quantities. The results of this study will also be used in extensive laboratory and field tests in the future.
The award-winning thesis combines a modern and current perspective that has been studied through literature and several laboratory tests. This work is part of an effort to minimize energy consumption and carbon dioxide emissions in soil improvement projects, allowing the geotechnical design sector to take a leading position in implementing more environmentally sustainable projects.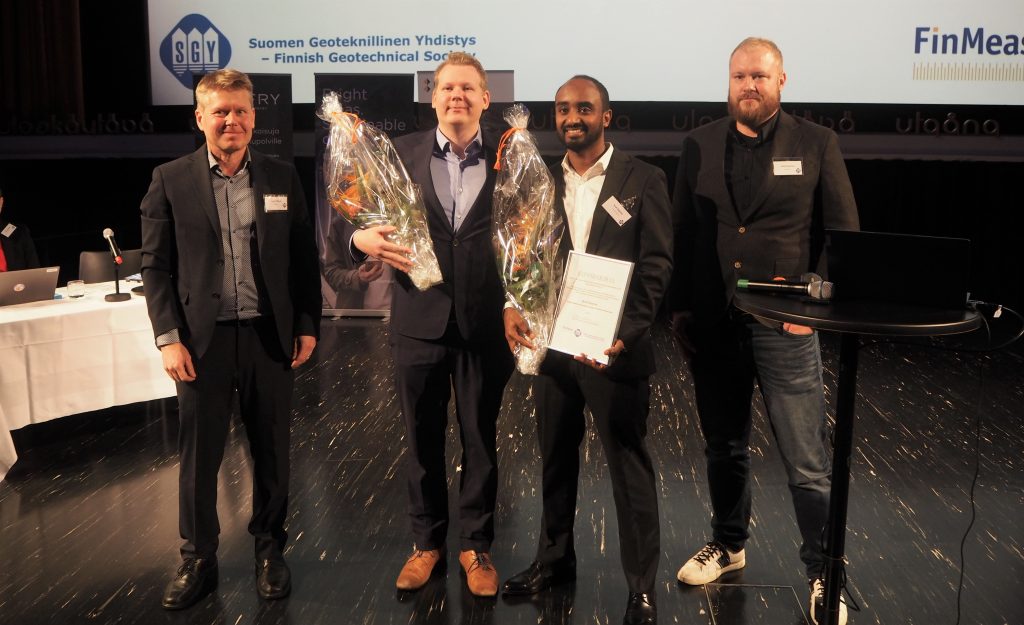 The prize was awarded for the ninth time
The FinMeas Oy thesis prize for the best final thesis in geotechnical engineering has been awarded for the ninth time. All universities teaching geotechnical engineering, including Aalto University, Tampere University, and the University of Oulu, participated in the competition. Bruk Dejenie was chosen as the winner, while Antti Rahko from Tampere University and Paula Liisanantti from the University of Oulu also made it to the top three.
Contact information:
Bruk Dejenie, Aalto University, bruk.dejenie@ramboll.fi
Sami Ylönen, CEO, FinMeas Oy, tel. 040 715 3264
Please note that there is no open online publication of the thesis available.
For more information on Geotechnical Day, please visit https://sgy.fi/toiminta/geotekniikan-paiva/. The Finnish Geotechnical Society SGY is a community of designers, researchers, contractors, builders, and equipment and material suppliers actively working in soil and foundation construction.