Case Akalla
FinMeas measurement technology utilised in the Stockholm Bypass project
Züblin Scandinavia AB carried out work for one of 17 subcontracts within the ongoing Stockholm Bypass construction project. Work began in April 2016 and was completed in May 2021. The contracted area covered 980 metres, including 135 metres of tunnel. As the rock surface is in close proximity to the soil surface, the tunnel essentially needed to be constructed of cement.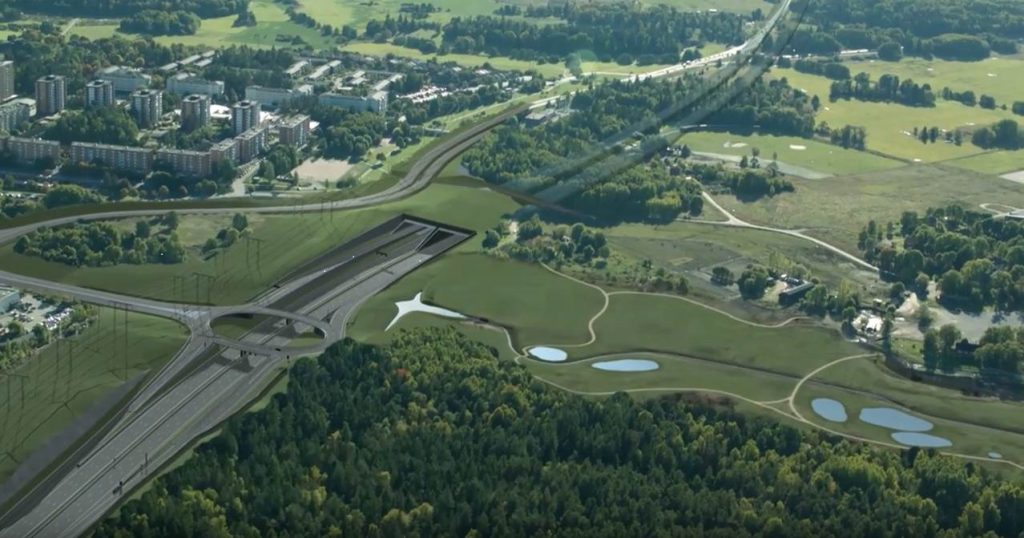 "Ensuring that the rock is sealed has proven to be one of the biggest onsite challenges, as the rock for this tunnel section is cracked and conducts water. The water table, in the cracked rock, is difficult to fully control. To monitor this water level and the groundwater levels, we are using FinMeas automatic monitors, which we are thoroughly satisfied with," concludes Carl Berzell, Project Engineer a Züblin Scandinavia.
The construction section comprised a lot of soil and rock excavation, jet injections and other ground stabilisation, as well as the construction of concrete troughs and drainage wells. It is all about maintaining full control of the anchor bar forces and movements in the sheet pile that supports the excavation pits. This is where FinMeas' expertise was called upon.
FinMeas delivered inclinometers with advanced sensory technology, which provided continuous real-time information on lateral movements of the sheet wall. Previously, information on movements was received less often, as measurements had to be taken manually.
"Also, the fact that the measurements are web-based makes follow-up extremely easy. Moreover, the software comes in a variety of languages, which has benefitted our German-speaking designer," notes Berzell.
Automatic monitoring of groundwater levels
Sami Ylönen, CEO of FinMeas, holds a PhD in automation technology. As an entrepreneur, he specialises in the automatization of geotechnical measurements. He and his corporate colleague, Antti Ryhänen, were highly inspired by professor of research Yrjö Neuvo, Technology Director at Nokia, who was a pioneer in Finnish telecommunication technology. It was his expertise and teachings that Ylönen and Ryhänen applied to their geotechnical business operations.
"Our business concept is to provide automated measurement services as preventative measures. In other words, the advantage with our measurements is that the customer can monitor the functioning of critical structures and react, in time, to inward leakage and other possible deviations," explains Sami Ylönen.
Ylönen believes that the utilisation of FInMeas technology in the construction of the Stockholm Bypass contributes to the company's internationalisation. "A major Swedish contractor chose to employ our automatic measuring services," says Ylönen.